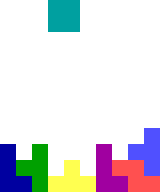 Tetris is one of the most played games of all time. The player is up against a (pseudo) random generator that determines what kind of "block" will be the next to fall down. And when the stones do not fall right, there is little else for the player to do than taking it with pride and trying to close the gap later on. (Or playing in a way that no matter what block should fall, there will always be a place for it, right!)
Tetris has been described to depict life already in many cases. It's time to shake of the novelty of this comparison and just use it as an idiom as often as possible.
Interestingly, newer variants of Tetris include their own story, with anthropomorphic cubes called "Minos" and the blocks themselves called "Tetrions" … However, this effort never catched on because these stories take away too much of associative potential. Tetris serves better as a projection ground for real life than for for Roger Dean type fantasy worlds.




---
Update:
After
seeing
it
quoted
"the blocks didn't fall right" instead of "the stones didn't fall right" i started to believe that "blocks" is the more correct word and changed this post's title and content.