Many computer users are concerned about the dangers "viruses" and "worms" are causing on the internet. They read in computer magazines and see on the TV news that all the time new threats are appearing and their computer is under constant attack.
Some are driven into the entwined arms of Peter Norton, a software publisher that earned his reputation in the 1980s with Norton Commander, a software that could almost make you think MS-DOS was an operating system.
But this was a long time ago. Today you can ask yourself if it is worse to have your computer slowed down by a virus itself or by Norton AntiVirus, a software so heavy and baroque that it makes the latest Duo Core processors scream. A virus at least needs your computer to send spam messages and therefore keeps a minimum level of operability. Norton AntiVirus just makes sure nothing works anymore, including viruses.
Norton, once the synonym for really enhancing the computing experience, became the icon of the schizophrenic software business logic that once you really solve a problem you destroyed your own job.
Use Norton to express ambivalence, conflict within, split personality and day-to-day self-deception.
---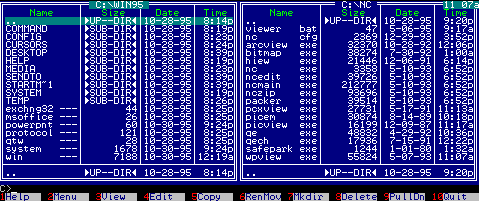 This is a screenshot of the ancient Norton Commander. Its killer feature was to split the text-only display of MS-DOS into two pseudo windows. This cleary shows that dispartment has always been a core idea in the Norton product line.